General Dental Care
Bridges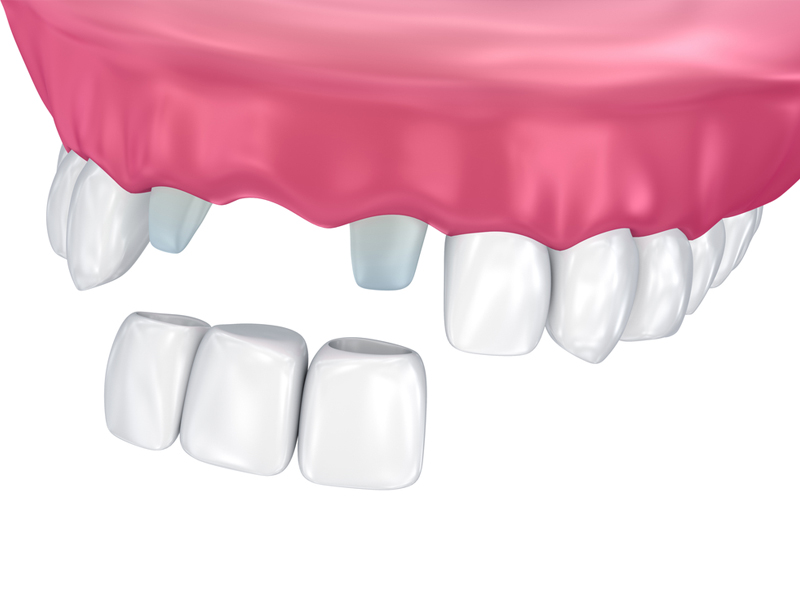 Dental bridges hold your teeth together and replace missing teeth. This type of restoration makes eating and speaking easier, and improves your smile. Many patients benefit from bridges not only because their teeth look better, but also because future dental problems – including shrinking bones – can be avoided.
What is a dental bridge?
As its name implies, a dental bridge covers the space from one or more missing teeth. Generally, bridges are made up of 2 or more crowns which act as anchoring teeth, as well as a pontic (false tooth). Natural teeth act as supports for the dental bridge.
Why might you need a bridge?
If you are missing teeth, it can be a serious problem because the other teeth have the tendency to eventually drift into the gap. This can affect your bite and your jaw joints, and it also makes your teeth more susceptible to decay because they are harder to clean. The bones around the tooth may also start to shrink over time, changing the look of your face.
Types of dental bridges
Adhesive Bridges: These bridges are applied to the inside of the teeth surrounding the gap.
Regular Bridges: Conventional bridges are supported by the teeth on either side of the gap. The teeth are shaped to support a unified bridge before being cemented to the bridge to create a fixed appliance. These bridges, which are typically either porcelain fused to metal or ceramic, can be made of tooth-coloured materials.
Resin-Attached Bridges: Resin-attached bridges are most often used to replace a single front tooth. An adhesive 'wing' attaches them to an adjacent tooth. Unlike conventional bridges, this type requires little tooth modification prior to placement.
Implant-Retained Bridges: These bridges use dental implants to achieve a natural-looking restorative result.
What is the process of getting a bridge?
You will need to go to your dentist a few times for the process of getting a dental bridge. First, your dentist will prep your surrounding teeth by re-contouring them so that there is enough room for the crowns. You will get a temporary bridge in the meantime until your next appointment. Then, your dentist will replace it with your new bridge and make sure that it fits you. If you take care of the bridge, it will last up to 15 years.