General Dental Care
Dental Implants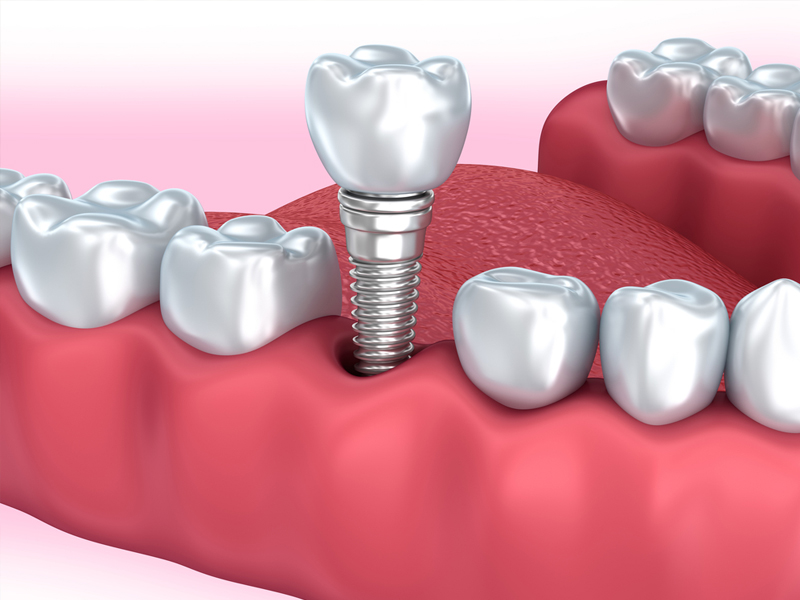 Do you have teeth missing? If so, you are not alone. In fact, millions of people suffer from tooth loss due to many reasons, including periodontal disease, decay, or injuries. Dental implants are an innovative way to improve your smile and bite.
What are dental implants?
Dental implants replace tooth roots and support removable replacement teeth. They look just like natural teeth are worn easily and comfortably.
Dental implants vs. dentures or bridges
It used to be that people with missing teeth only had two options: bridges and dentures. These days, dental implants are more desirable. Dentures can be very unpleasant to wear for many people, and bridges require the modification of your surrounding healthy teeth, which has the tendency to make them weak. These are reasons why people prefer dental implants over bridges or dentures.
How do they work?
A small titanium cylinder replaces the root of the missing tooth. Titanium is better because it can bond easily with bone, allowing the cylinder to act as a fully functional substitute root. This titanium implant can be used to support a single replacement tooth or hold a denture more securely in place.
What are the benefits of getting dental implants?
Dental implants provide many benefits, and they include:
Improved appearance- Since they look and feel like your own teeth, your smile will be improved. The look of your jaw line will also be improved.
Better speech- Dental implants will not budge in your mouth, so you can feel confident when you talk. Unlike dentures, implants do not make your teeth slip.
Comfort- Your implants are fused with your jaw bones, so they are part of you. This means that they will not move. They are incredibly comfortable to wear.
Reduced bone atrophy- Bone atrophy may also be eliminated entirely with dental implants.
Improved eating- It can be very hard to eat with dentures. Dental implants allow you to eat without fear of dentures slipping. You can eat and chew without worry because they function like your very own teeth.

Better oral health- With dental implants, your nearby teeth do not have to be shaped to support them. This means that your other teeth will not be damaged by the implants, improving your oral health.
Convenience- Dental implants are part of you, unlike dentures. Who wants to remove dentures every night and put them back in every morning? Implants are no fuss, no muss.
Dental implants are a viable option to dentures and bridges because they provide years of comfortable functionality. Your dentist will ensure that your new implant suits you perfectly!